World's 1st DLNA Certified LanDisk
Taipei, Taiwan, July 7, 2011/ -- inXtron Incorporated, an innovative force in the IT & Storage industry is proud to announce that it has designed and manufactured the world's first DLNA certified LanDisk products (NAS + DAS Dual Mode) based on the JMicron JCS-358 SoC. The two new products, named Akitio CloudDock & Akitio CloudSync Plus are both hybrid devices that were created to meet the needs of consumers trying to decide whether to purchase Network Attached Storage (NAS) or Direct Attached Storage (DAS). By incorporating both into one unit while also adding DLNA/UPnP connectivity and remote access via free mobile apps, inXtron has created products that meet the needs of both.
DLNA/UPnP certification means that these devices can connect with any other DLNA/UPnP devices in your home, therefore allowing users to access stored files directly on their televisions via devices such as the PS3 and XBOX 360. The CloudDock and CloudSync Plus can also connect to any other DLNA compatible devices such as digital picture frames or internet television sets.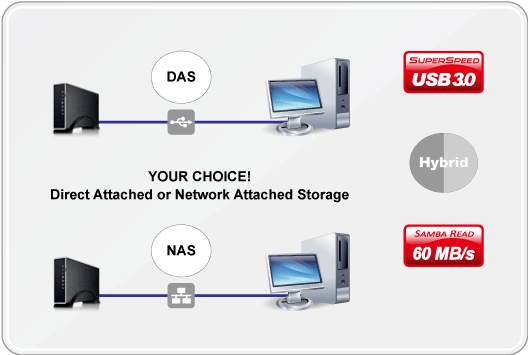 Direct Attached Storage
By directly attaching the devices via USB 3.0, users can transfer files extremely quickly. The CloudDock and CloudSync Plus devices are both equipped with superspeed USB 3.0 enabling file transfer speeds of up to 5Gbps. A one gigabyte file can be transferred in under four minutes. USB 3.0 is also backward compatible with USB 2.0.
Network Attached Storage
The two new devices allow all computers connected to a local network to access and share whatever data is stored on the CloudDock and CloudSync Plus hard drives. Remote access is also possible by any internet connected computer/device. Drive contents are protected by requiring users to input the server name, user name and password details in order to access the files stored on the device.
Mobile Apps
Both devices also provide wireless storage for mobile devices via free iPhone, iPad and Android apps that can be downloaded directly from the Apple and Android App Stores. The apps make remote access extremely quick and easy. Files stored on the CloudDock and CloudSync Plus hard drives can be downloaded directly into the apps to enable offline access to files on a mobile device. By providing access to the CloudDock and CloudSync Plus hard drives, mobile device storage limitations are essentially done away with; imagine an iPhone with 3 terabytes of storage space.
inXtron believes in "Innovation through Creativity" and has now brought us the world's first DLNA certified LanDisk products offering both direct attached and network attached storage as well as remote access via mobile devices. inXtron has essentially bundled four separate products into one and created a new hybrid that fits the needs of a vast majority of consumers.
About DLNA
The Digital Living Network Alliance (DLNA) is a global collaboration of 245 of your most trusted brands, all working together to help you create the home entertainment environment you've always imagined.
About inXtron
inXtron, with its headquarters and R&D in Taiwan and state-of-the-art manufacturing facilities in China, is a total solutions provider with the resources and facilities needed to take a product from design and development to mass production. Services include industrial and mechanical design, testing, sourcing, manufacturing, and distribution to name a few.
inXtron, Inc.
8F, No.52, MinQuan Road, Hsintien Dist.
New Taipei City 23141, Taiwan
www.inxtron.com
Phone: +886 2 2914 0828