inXtron's Company Profile - History & Company Address
Company Profile (EN)
About inXtron, Inc.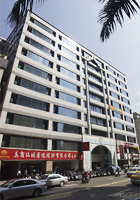 Founded in 1992, inXtron, Inc., formerly known as Macpower Peripherals Ltd. or Macpower & Tytech Technology Co., Ltd., has a corporate culture rooted in "Innovation & Technology". With headquarters and R&D in Taiwan and state-of-the-art manufacturing facilities in mainland China, inXtron has approximately 500 employees including 25 R&D professionals in R&D centres.
We specialize in the design, development, marketing and manufacture of consumer products but also provide highly sought-after contract manufacturing services in China. Our products include multi media players, smart storage enclosures, digital signage solutions and software development. inXtron is dedicated to quality control and the development of core technology from start to final products. In the development phase we place particular emphasis on the importance of technology that is user-friendly.
inXtron has strong financial backing and resources, management expertise, marketplace knowledge and ethical business practices. We strive to help our customers succeed and by developing close working relationships with them we can better determine their requirements and more effectively serve them.
Company Address
inXtron, Inc.
8F, No.52, MinQuan Road, Xindian Dist.
New Taipei City 23141, Taiwan
Phone: +886-2-2914-0828
Fax: +886-2-2910-2486
Download MAP
inXtron, Inc. at Google Maps
View inXtron Office in a larger map