D8-DMA
D8-DMA
The D8 is the ideal entry-level device for all your advertisement system requirements. Available in PCB-only, as a standalone device or as a complete, all-in-one unit with space for an internal HDD, the D8 offers functionality and flexibility at an extremely affordable price. The D8 offers customized firmware features and optional 802.11b/g wireless connection, as well as play list support and remote updates.
Features
Hardware and software watchdog timer (WDT)
Real time clock with battery (RTC)
Multiple playlist support to allow scheduled content playback
Scrolling text message (ticker)
Scheduled content download from HTTP or FTP server
Upload function to get feedback via FTP
Automated play modes for easy setup
USB auto-copy function for easy updates by staff
Firmware upgradeable through CF card, USB drive or network
Up to 1080i high definition video output
ISO and WMV 9 high definition playback support
Optional 802.11 b/g wireless connection with WEP 64-bit and 128-bit support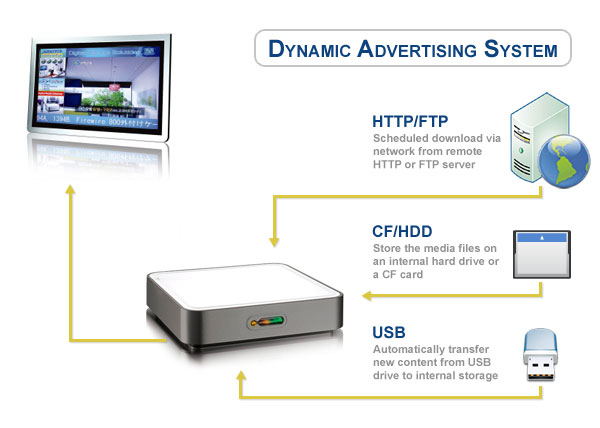 The D8 digital media adapter is connected to your local network using a standard Ethernet or wireless connection, enabling you to access and broadcast content from any computer on your network. Combined with its ability to access a remote server over the internet, new content can be downloaded over night and stored on the local drive. Using the playlist function, this system can be used for targeted advertisement with up to date content, all maintained from a central content server.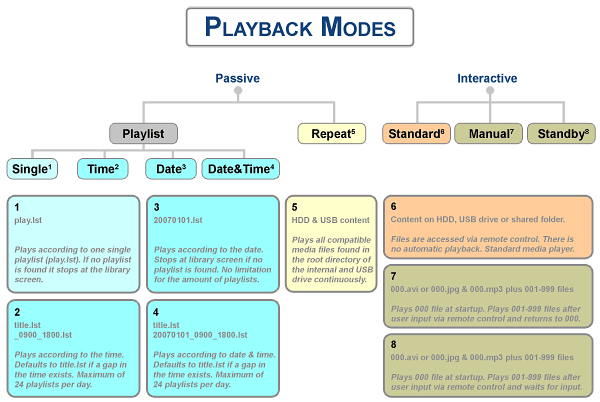 File Formats
Connected to the TV or any other display with the corresponding video inputs, it can playback media files such as videos, music and photos directly from its CR card, attached USB drives or via local network. The D8 supports video formats like MPEG-4 (AVI, XviD), high definition WMV9 and even uncompressed high quality ISO files!
Only with the D8 can you play DVDs (using the .ISO format) and watch them as if they were running from the original disc. Yes, that includes the menu, chapter selection, audio channels, subtitles and extra features just like on your standard DVD player. Instead of burning your sales or product presentation onto a DVD disc, you can prepare that multilingual product introduction as you usually would but then save it as .ISO file and store it directly on the hard disk of the D8.
Model No.
D8-LNU2SVV1
Certifications
N/A
Processor
Memory
Case material

High quality aluminum colored plastic

Internal storage

CF card (requires CF daughter board)

Video formats

MPEG-1
MPEG-2
MPEG-4
WMV9
ISO

Audio formats
Image formats
Supported USB devices

Mass Storage class devices using FAT12, FAT16 or FAT32 including USB hard drives, card readers and USB memory sticks (USB hubs are not supported).

Input interface

USB 2.0 High Speed (USB1.1 backwards compatible)
Ethernet 10-baseT/100-baseT
Optional Wireless 802.11b/g with WEP 64-bit and 128-bit support

Video output interface

Composite Video
S-Video
Analog Component Video up to 720p and 1080i
SCART RGB (optional cable)
VGA up to 1024x768

Audio output interface

Dual stereo analog audio
SPDIF optical output (optional cable)

OSD languages
System requirements

Windows XP or Vista (only required for config tool or SMB shares)
10/100Mbps Network and Internet connection
Network switch or router
TV or display with video/audio input (Composite RCA or better yet S-Video or Component RCA)
Optional amplifier with surround speaker system

Power supply

External power adapter universal auto-switching (UL, cUL)
Input: AC 100-240V
Output: DC +12V/2A

Dimensions (LxWxH)
Packing accessories

D8-DMA
Infrared remote control
Power adapter
Composite, Component and VGA AV cable
Ethernet cable
User manual

Optional accessories

CF daughter board
Wireless kit

Carton/Packing

Retail Box Size: 27cm x 20.4cm x 8.8cm
Carton Size: 46cm x 42.8cm x 29.6cm (10pcs per carton)

Remarks

To make use of all features the D8 offers, an Ethernet connection with access to the local network and internet, plus an internal CF card is required.
Only one internal drive can be used at the time (e.g. CF or HDD).
D8-DMA - Standard Package Contents
[01] D8-DMA

[02] Power Adapter 110/240V auto switching, +12V/2A
PN: E11-1111024005 (USA)

[03] Infrared remote control
PN: E10-U147000000

[04] Composite AV cable (Composite RCA, S-Video mini DIN, left audio RCA, right audio RCA)
PN: E14-3421500003

[05] YPbPr AV cable
(YPbPr color component video - 3 RCA, left audio RCA, right audio RCA)
PN: E14-3421500005

[06] VGA AV cable
(15-pin male VGA, left audio RCA, right audio RCA)
PN: E14-3421500004

[07] Ethernet cable
PN: E14-371A150000

[08] User manual
PN: E15-5759100008
D8-DMA - Optional Accessories
[09] CF (internal) daughter board

[10] 802.11b/g Wireless Kit
PN: NA-WNAG

Note: CF card is not included and only for illustration purposes.
Like

It? Please Share It!