SMART AP for External Hard Drives
Finally, there is a SMART way to manage your external hard drive. No longer is it necessary to guess what kind of hard drive is installed in your FireWire or USB storage enclosure and no need to worry about the temperature of the drive, because now you know. Not only that but many more useful details and information about your USB or FireWire drive are now collected and presented conveniently in one location. For Mac users, it is a Dashboard widget and for Windows users, it is a Sidebar gadget.
HDD Information
Not only does the SMART AP display the total and free capacity of your hard drive but it does so graphically and even reminds you in time when you are about to run out of space. Ever worried about how old your drive is and if it might be time to get a replacement, so that your data is safe and secure? No need to guess any longer, because if you do it smart, you keep an eye on the total usage time and how many times the drive has been powered on and off, so you can get an idea of when to get a replacement drive.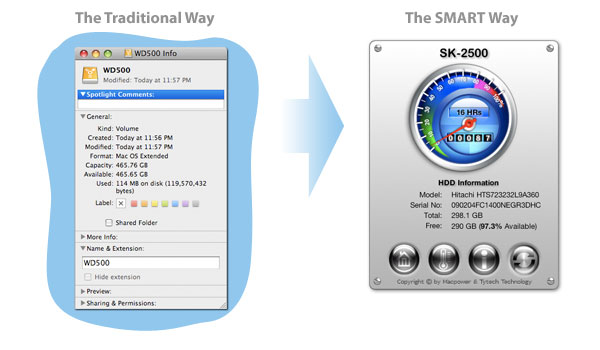 HDD Temperature
With increasingly larger and faster drives, it is smart to monitor the temperature of your hard drive, in order to extend the lifetime and prevent drive failures. The SMART AP uses S.M.A.R.T. information from the drive, to make use of the internal sensor, so you get an accurate reading and without the need to purchase and install an additional temperatur sensor. The graphical interface provides you with a quick overview but at the same time, it also records the highest temperature of the day and warns you in case of overheating.
HDD Model
To troubleshoot the product and to help when it's time to purchase a new hard drive, the SMART AP displays the model number and serial number of the hard drive. Without taking your enclosure apart, you get the necessary information right on your desktop and even a hyperlink to redirect you to the corresponding website. Finding and buying a replacement, a new drive or further accessories has never been easier!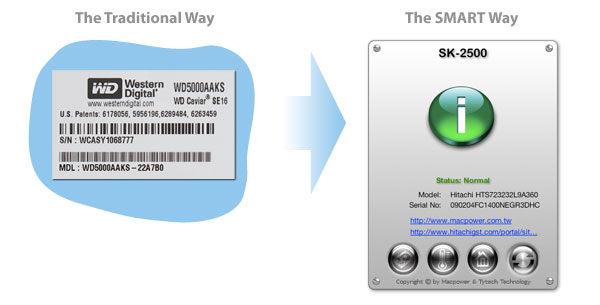 SMART AP Settings
Configure the settings of your SMART AP according to your own requirements. Give it a name to easily recognize the drive, define the interval time to refresh the information and set the treshhold for the warning when you run out of storage space or in case of overheating. For tech support and possible firmware updates, you can even see the chipset and firmware version of your external storage enclosure. Plus, there is the option to send a warning directly to your mailbox.
Multi-Bay Enclosures
For hard drive enclosures with multiple drives, you can access the information for each individual drive. Also, if RAID is supported, the available RAID modes are displayed and it's possible to change the RAID set up using the SMART AP interface.
LCD Display
For hard drive enclosures with LCD display, additional options are available under Settings. The settings of the device and the behavior of the LCD display can be set via SMART AP interface, making it easy to quickly adjust the settings.
Frequently Asked Questions
What is S.M.A.R.T.?
S.M.A.R.T. stands for Self-Monitoring, Analysis and Reporting Technology. It is a monitoring system for computer hard drives, using information provided by the HDD itself to detect and report on various inidicators that can be used for analysis and as reference for the overall reliability and performance of the drive. The SMART AP uses some of that data to display useful information, such as the internal drive temperature as an example. For more details about S.M.A.R.T. in general, please refer to this Wikipedia article about S.M.A.R.T.
Which products are supported?
Only USB and FireWire hard drive enclosures that ship with SMART AP are supported. Currently, this includes the Pleiades Super S-Combo, PD-SATA 400+, SK-3500 Super-S Combo, SK-3500 S2, SK-3500 U2, SK-2500 800+ and the SK-2500 S2.
Where can I download this application?
If the product is supported, it will be included on a CD. The application is currently not available for download.
I already have an inXtron hard drive enclosure, will the SMART AP recognize it?
No, only products that already include the SMART AP at the time of purchase support this new application.
Which Operating Systems are supported?
Mac OS 10.4 to 10.6.7, Windows Vista and Windows 7.
Which interfaces are supported?
FireWire 400, FireWire 800 and USB 2.0.
Does the SMART AP recognize multiple storage enclosures at the same time?
No, it can only recognize one device (the device that is first connected to the computer).
Can the branding and the hyperlinks for this application be modified?
Yes, we can offer the SMART AP with your own branding and links to your own website or online shopping site. The idea of this application is to offer users convenient access to the corresponding product website when they are in need of a new hard drive or additional storage enclosures, so that they can easily buy additional products.