NT2 U3


NT2
The ultra compact design of the NT2 makes this dual-bay RAID storage enclosure one of the smallest in the market, yet it still packs a punch when it comes to flexibility and performance. Installing the 3.5" hard drives is quick and easy, thanks to the screwless design. By incorporating USB 3.0 SuperSpeed technology, inXtron's NT2 U3 is able to break the USB 2.0 barrier, delivering up to 10 times the speed of the older USB connection. At the same time, it is still backwards compatible with the widely used USB 2.0 technology.
Features
Configurable RAID function (Non-RAID, RAID 0, RAID 1)
Supports large volumes in excess of 2TB
USB 3.0 SuperSpeed connection
Backwards compatible with USB 2.0 High Speed
Compact and screwless design for easy HDD installation
Built-in fan (4000RPM) for extra cooling
Security lock slot
Compact & Screwless Design
The small footprint and screwless design makes this the ideal storage expansion for your crowded desktop. In a matter of seconds, hard drives can be installed or replaced without any extra tools.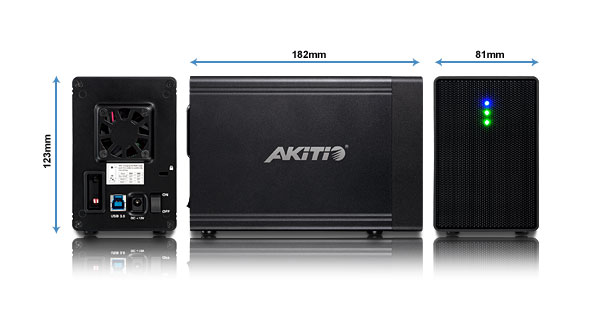 Dual-Bay RAID Storage Enclosure
The NT2 is designed to house up to two 3.5" SATA hard drives with the option to setup your drives according to your own preferences. For data security select RAID 1 (mirror copy), for performance select RAID 0 and to create two independent volumes, select Non-RAID.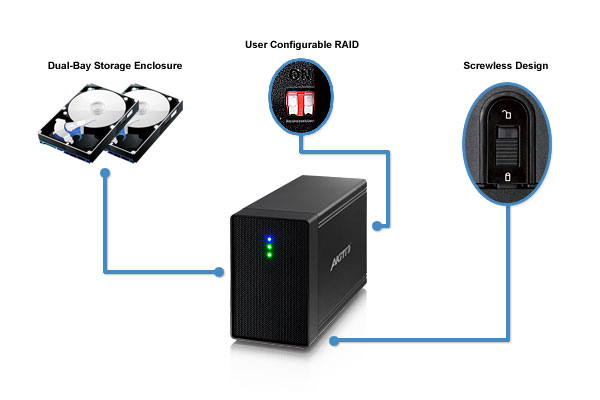 Non-RAID
The drives show up as independent volumes. Each drive can be formatted and accessed separately. If one drive fails, the other is not affected. This setting does not provide any performance or redundancy benefits.
| | |
| --- | --- |
| 1 or 2 hard drives | |
RAID 0 - Disk Striping
The drives are shown as one large single volume with a total capacity of twice the size of the drive with the smallest capacity. This setting is used where speed is the primary objective but RAID Level 0 (also called striping) is not redundant. This form of array splits each piece of data across the drives in segments; since data is written without any form of parity data-checking, it allows for the fastest data transfer of all other modes. On the downside, if one drive becomes damaged, the whole array can become corrupted.
| | |
| --- | --- |
| 2 hard drives | |
RAID 1 - Disk Mirroring
Two drives show up as one volume but only 50% of the total capacity, depending on the drive with the smallest capacity, can be used. RAID 1 creates an exact copy (or mirror) of a set of data on the second drive. This is useful when reliability and backup take precedence over storage capacity. Should one hard drive fail, it can be replaced and the data rebuilt automatically.
| | |
| --- | --- |
| 2 hard drives | |
Remarks
The difference in performance is only visible for fast interfaces like USB 3.0 SuperSpeed.
For RAID 0 and RAID 1, hard drives of identical capacities are recommended. If the capacity is different, the total amount of the space that can be used will depend on the drive with the smallest capacity.
Model No.
NT2-U3ASA (silver model NT2-U3AS has been phased out as of May 2013)
Certifications
Case material

High quality aluminum housing with plastic front

Application

Up to two 3.5" SATA-I or SATA-II hard drives (1.5Gb/s or 3.0Gb/s)
Capacity 80GB - 4TB per HDD
For RAID 0 & 1, two hard drives of identical capacity are recommended
Supports large volumes in excess of 2TB

RAID mode

Non-RAID
RAID 0 striping
RAID 1 mirroring

Interface/Ports

1x USB 3.0 SuperSpeed port

Data transfer

USB 3.0 up to 5Gbps (625MB/s)
USB 2.0 up to 480Mbps (60MB/s)

System requirements (PC)

USB 3.0: Windows XP or above
USB 2.0: Windows XP or above
Your hardware device must have the correct corresponding port (e.g. USB 3.0, USB 2.0 or PCI card)

System requirements (Mac)

USB 3.0: Mac OS 10.7 or above
USB 2.0: Mac OS 10.2 or above
Your hardware device must have the correct corresponding port (e.g. USB 3.0 or PCI card)

System environment

Operating Temperature: 5°C ~ 35°C
Storage Temperature: -20°C ~ 70°C
Relative Humidity: 5% ~ 95% (non-condensing)

Power supply

External power supply (UL, cUL, CE, TUV approved)
Input: AC 100-240V, 50-60Hz
Output: DC +12V/3A

Dimensions (LxWxH)
Packing accessories

NT2 enclosure (HDD not included)
USB 3.0 cable
Power adapter
User manual

Carton/Packing

Retail Box Size: 27cm x 22.4cm x 13cm
Carton Size: 57cm x 42cm x 25cm (6pcs per carton)

Remarks

In order for the computer to access volumes larger than 2TB, both the hardware and Operating System need to support large volumes (e.g.: Windows Vista, Windows 7 or Mac OS 10.4 and above).