M9 USB/LAN
M9
This external hard disk drive enclosure offers both USB 2.0 High Speed and LAN connection in one unit. A sleek and stylish enclosure for your 3.5" SATA hard drive, ensuring optimum heat dissipation thanks to its heatsink and smart fan. Designed specially for the modern home and office environment.
Network Attached Storage (SMB/FTP)
Multiple users can access the M9-SATA USB/LAN to share and exchange files via Ethernet connection. Set up shared folders and let users access the files via local network connection using SMB or FTP. For admins, the web interface offers useful tools such as user and share management, disk utility, plus other system and network tools to let you manage the LAN disk with ease.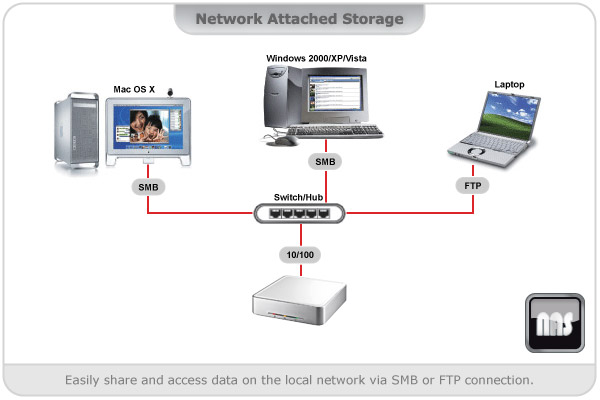 Xbox 360 Media Server (UPnP)
Store your photos and music files on the M9-SATA USB/LAN, define the directory that you would like to share and the files (MP3, WMA, JPEG) will be immediately available on the Xbox 360 to playback on the TV. Simply access your photos or music library on the TV and the UPnP server will show up automatically, making all the shared photos and music files available for access.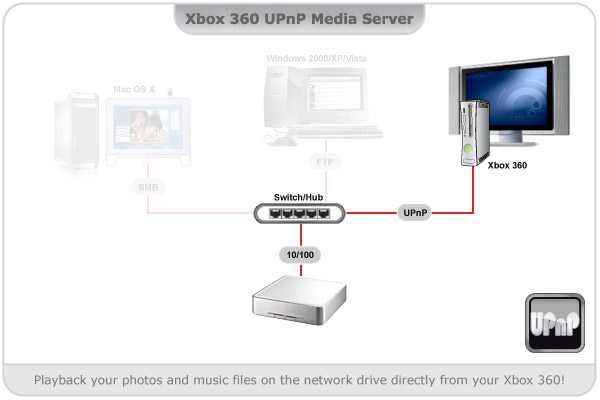 USB Hard Drive
The M9-SATA USB/LAN comes with a high speed USB 2.0 port for quick and convenient access to your data. The common USB connection comes in handy when there is no network connection available or the device is used as a simple USB storage device.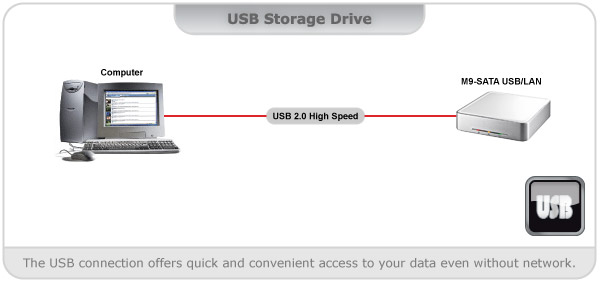 Model No.
M9-LN2U2RGS
Certifications
N/A
CPU
Memory
Case material

High quality aluminum colored plastic

Internal hard drive(s)

3.5" SATA-I or SATA-II hard drive (1.5Gb/s or 3.0Gb/s)
Capacity 80GB - 1.5TB
FAT32

Front I/O

3 x Status LEDs (HDD, network, system)

Rear I/O

1 x Power receptacle
1 x Power switch
1 x RJ45 connector (10/100)
1 x USB 2.0 device port
1 x Reset button
1 x DIP switch for fan speed control

LAN interface

100BASE-TX IEEE 802.3u
10BASE-T IEEE 802.3
Auto MDIX
Half-duplex and full-duplex operation

USB interface
RAID
N/A
Web based GUI

Simple HTML GUI for basic settings

Network services

Samba server
FTP server
DHCP server
UPnP-AV media server (photos and music only for Xbox360

Printer server
System management

Firmware update
Network configuration
Disk utility
Windows setup utility

Remote access
N/A
Mobile App
N/A
System requirements (PC)

LAN: Windows XP/Vista/7
USB 2.0: Windows XP/Vista/7
Your hardware device must have the correct corresponding port (e.g. Ethernet, USB 2.0 or PCI card)

System requirements (Mac)

LAN: Mac OS 10.2 or above
USB 2.0: Mac OS 10.2 or above
Your hardware device must have the correct corresponding port (e.g. Ethernet, USB 2.0 or PCI card)

System environment

Operating Temperature: 5°C ~ 40°C
Operating Humidity: 20%RH ~ 80%RH
Storage Temperature: -20°C ~ 70°C
Storage Humidity: 10%RH ~ 90%RH

Power supply

External power supply (UL, cUL, CE, TUV approved)
Input: AC 100-240V, 1.2A, 50-60Hz
Output: +12V/2A

Dimensions (LxWxH)
Packing accessories

M9 enclosure (HDD not included)
USB 2.0 cable
Ethernet cable
Power adapter
User manual
Utility CD

Carton/Packaging

Retail Box Size: 27cm x 20.4cm x 8.8cm
Carton Size: 46cm x 42.8cm x 29.6cm (10pcs per carton)

Remarks

Only one interface at the time can be used (either LAN or USB connection).