MyCloud Pro
MyCloud
The personal cloud server provides safe and secure network storage plus the ability to easily share your digital content with family and friends. Our MyCloud software makes all of this so easy that almost anyone can do it.
Features
UPnP-AV media server to stream media files on the local network
Web based file browser and media player to manage and playback media files
Video transcoding application to convert incompatible videos to a commonly used format
Takes less than 45 seconds to set up (excluding HDD installation and formatting process)
RAID 0 for large storage capacities and RAID 1 for data protection
Free web portal for remote access at home and on-the-road
Your own personal cloud storage without monthly fees
Removable HDD trays for easy drive installation
Gigabit Ethernet connection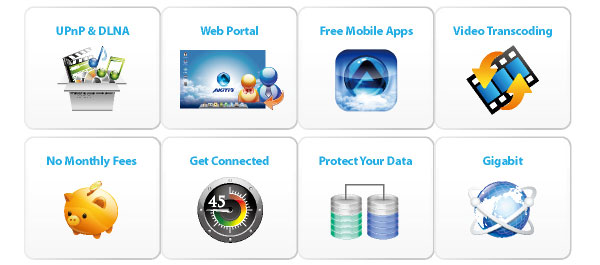 UPnP-AV Media Server
Stream content within your local network to any available UPnP-AV and DLNA compatible devices. Data can also be uploaded to the Gigabit network drive and shared from multiple workstations via SMB or FTP connection just like on any traditional NAS system.
Supported UPnP Clients
Xbox 360 (JPG, MP3, WMV, XviD)
PlayStation 3 (JPG, MP3, MPEG-1, MPEG-2, XviD)
iTunes (MP3)
DLNA certified UPnP clients
Windows 7 (Windows Media Player)

Remote Access & File Browser
MyCloud offers remote web-based access for when you are on the road and a file browser with built-in media player to easily manage and view your files right in the web browser or on your iPhone and iPad. Simply register your device, login through our web portal or the mobile app and you have immediate access to your files, no matter where you are.
Create your own personal cloud and start sharing files with your friends and family. Let them use your device with the same ease and convenience as you already do and let them enjoy your media collection with you.

Model No.
MCP2-LN23IA
Certifications
CPU

Intel Atom processor D525 (Dual-core 1.8GHz, 1MB Cache)

Memory
Case material

High quality aluminum housing with plastic front

Internal hard drive(s)

One or two 3.5" SATA-I, SATA-II or SATA-III hard drives
Capacity 80GB - 4TB per HDD
Supports large volumes over 2TB
XFS file system

Front I/O

2 x HDD LEDs per tray (power & data access)
1 x Power button
1 x System LED
2 x HDD LEDs (data access)
1 x Backup LED
1 x Backup button
1 x USB 2.0 host connector

Rear I/O

1 x Power receptacle
1 x RJ45 connector (10/100/1000) with two LEDs for link and activity
2 x USB 3.0 host connector
1 x Reset button

LAN interface

1000BASE-T IEEE 802.3ab
100BASE-TX IEEE 802.3u
10BASE-T IEEE 802.3
Auto MDIX
Automatic speed negotiation and downshift
Low power consumption; advanced power management

USB interface

1 x USB 2.0 host for USB backup from flash drives and hard drives
2 x USB 3.0 hosts for USB flash drives, hard drives and printers

RAID
Web based GUI

HTML based GUI with built-in file browser and media player

Network services

Samba server
NFS server
FTP server
DHCP server
UPnP-AV media server
iTunes music server
BitTorrent client
HTTP/FTP downloader
MyAkitio web portal (remote login)
Social network connection (e.g. Facebook, Flickr, YouTube)

Printer server

Yes (on local area network)

System management

Firmware update
Network configuration
Disk management utility
Power management
System logs
Mail notification
Windows & Mac setup utility
Device registration
User account management with address book

Remote access

MyiSharing web portal at www.myisharing.com
DDNS at www.dyn.com

Mobile App

iOS 4.0 or above
Android 2.2 to 3.x

System requirements (PC)

LAN: Windows XP/Vista/7
Internet browser for setup and file access
Your hardware device must have the correct corresponding port (e.g. Gigabit Ethernet)

System requirements (Mac)

LAN: Mac OS 10.2 or above
Internet browser for setup and file access
Your hardware device must have the correct corresponding port (e.g. Gigabit Ethernet)

System environment

Operating Temperature: 5°C ~ 35°C
Storage Temperature: -20°C ~ 70°C
Relative Humidity: 5% ~ 95% (non-condensing)

Power supply

External power supply (UL, cUL, CE, TUV approved)
Input: AC 100-240V, 1.2A, 50-60Hz
Output: DC +12V/5A

Dimensions (LxWxH)
Packing accessories

NAS enclosure (hard drive(s) not included)
Ethernet cable
Power adapter
Setup guide

Carton/Packaging

Retail Box Size: 32.8 x 25.4 x 15.5 cm
Carton Size (6pcs per carton): 54.2 x 49.3 x 35 cm

Remarks

Free application for iPhone and iPad available on App Store.
If the MyCloud is purchased with HDD's installed, setup will normally take less than 45 seconds. However, set up times may be longer if HDD installation and formatting are required.
Optional Accessories
Spare HDD tray with screw package (P/N: 47-11Y0AKT000 + E22-11YAA00000)

Lockable HDD tray with key (P/N: 47-10G00RS000)