The Thunderbolt™ 3 Hardware Developer Kit (HDK) from inXtron is available for USD $280. If purchased at the same time, the optional 150W power supply is available for USD $50. It can be purchased directly from inXtron by developers interested in creating their own Thunderbolt 3 products and learning more about this new technology. This HDK is not for resale and is not intended for the retail market. All payments are handled through PayPal and worldwide shipping by DHL for this HDK is free.
For more information and to purchase this product, please contact This email address is being protected from spambots. You need JavaScript enabled to view it..
This email address is being protected from spambots. You need JavaScript enabled to view it.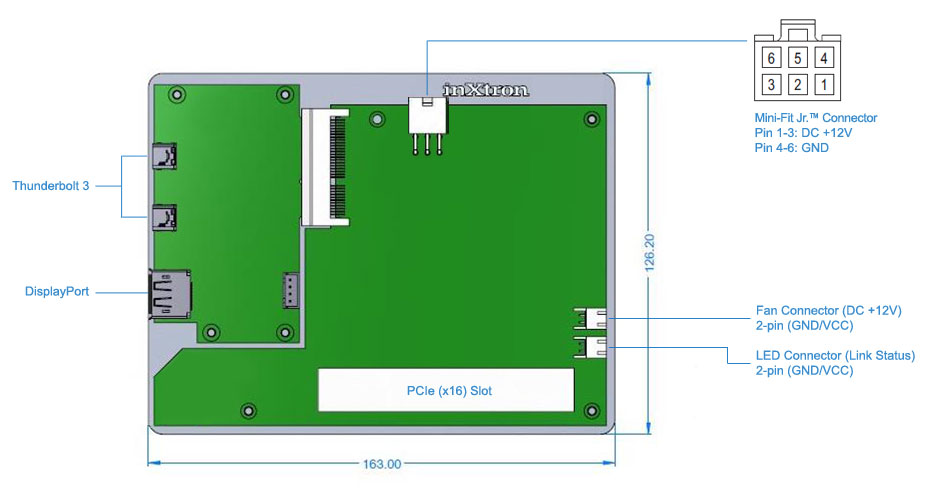 Features and specifications
2 x Thunderbolt™ 3 (USB-C) ports
1 x DisplayPort
1x PCIe (x16) slot with 4 lane PCIe 3.0 interface
1x 6-pin Mini-Fit Jr.™ power connector
1x 2-pin fan connector (DC +12V)
1x 2-pin LED connector (link status)
Power requirements
Minimum: DC +12V / 72W provides 25W of power to the PCIe slot
Maximum: DC +12V / 150W provides up to 75W of power to the PCIe slot
For cards that require more than 75W, power has to be provided to the card directly
Package content
PCIe to Thunderbolt 3 circuit board
Base plate for PCB
50cm Thunderbolt 3 (USB-C) cable
Brown cardboard box
150W (12V/12.5A) power supply (sold separately)
252W (12V/21A) power supply (sold separately)
Warranty and return policy
This product is not covered by any warranties
We do not accept returns or give refunds
If dead on arrival (DoA), contact us within 5 days of arrival
Important: When handling the circuit board, always disconnect the power adapter first and make sure to ground yourself. Place it on a non-conductive surface and do not touch the circuit board with wet hands.
Pricing
Thunderbolt 3 HDK: USD $280 (price is without VAT, tax or import duty)
150W PSU: USD $50 (sold only bundled with the HDK)
252W PSU: USD $100 (sold only bundled with the HDK)
Shipping: Free (worldwide)