FAQ - Frequently Asked Questions - Knowledge Base
What is the actual data transfer rate for external hard drive enclosures?
The actual data transfer rate depends on many different factors. At first, it will depend on the interface that is available. On our website, the data transfer rate that is listed under specifications is always the theoretical value of any given interface. As an example, it may read like this:
eSATA up to 3Gbps (300MB/s)
FireWire 800 (1394b) up to 800Mbps (100MB/s)
FireWire 400 (1394a) up to 400Mbps (50MB/s)
USB 2.0 up to 480Mbps (60MB/s)
The values seen above are for reference only, indicating what kind of interface is available. When measuring the actual time it takes to transfer data from the computer to the external hard drive or vice versa, in some cases, the result will be close to the theoretical value but in some cases, it will be less.
The actual data transfer rates may vary for many reasons.
Chipset
Hard Drive
RAID Mode
Host Controller
Computer
Following is an example of a benchmark. The theoretical data transfer rates as seen above can be used for reference but the benchmark will show the actual transfer speed. Note that the benchmark includes a detailed list showing the host computer, the hard drives and even the software that was used in the test. What this means is that as soon as any of these factors change, the results will likely change as well.
Test Environment
PC: Motherboard GA-8I945P, Intel Pentium 4, CPU 3.0GHz, 2GB RAM, Windows XP - FDBench v1.01
Mac: MacPro, Intel Xeon Quad Core, CPU 2.8GHz, 4GB RAM, OS 10.5.5 - Quickbench v4.0
HDD: 4x Seagate 250GB (ST3250310AS)
USB 2.0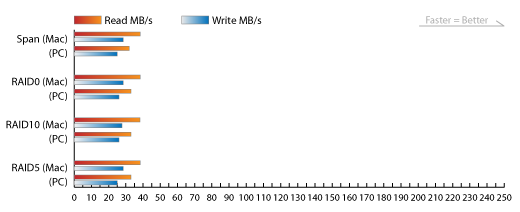 FireWire 400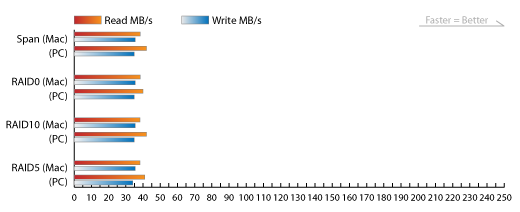 FireWire 800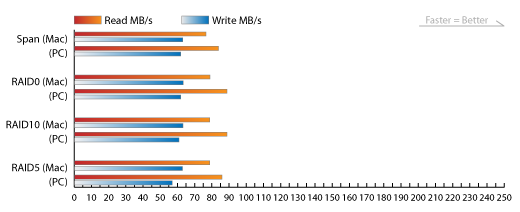 eSATA