Latest firmware update and upgrade instructions for inXtron's D7 digital media adapter.
Models: D7-LNU2SVS, D7-WLNU2SVS, D7H-WLNU2SVS
Before you upgrade the firmware, turn on your D7, press the SETUP key, go the UPDATE ROM and check the present firmware. If your current version is the same as the latest release seen above, your unit does not need to be updated. If yours has an older version, follow the steps described below.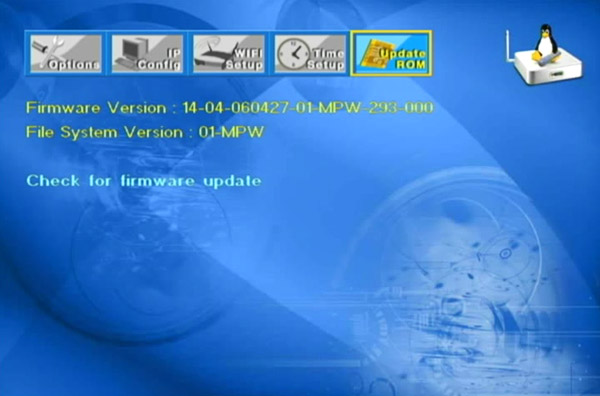 WARNING: NEVER TURN OFF YOUR UNIT DURING THE FIRMWARE UPDATE PROCEDURE. THIS MAY DAMAGE YOUR DEVICE. IF FOR ANY REASONS (E.G. POWER SUPPLY FAILURE DURING FIRMWARE UPDATE) THE PROCEDURE FAILS, YOU MAY NOT BE ABLE TO OPERATE YOUR DEVICE ANYMORE. IN THIS CASE PLEASE CONTACT YOUR VENDOR!
THIS FIRMWARE IS ONLY FOR INXTRON'S STANDARD D7. DO NOT USE THIS ON ANY OTHER DEVICE AND ONLY UPGRADE YOUR D7 USING THIS VERSION PROVIDED ON OUR WEBSITE!
Download the latest firmware for your D7, save it on your local disk and unzip it.
Store the BIN and the HTM file on a USB disk (formatted using FAT32).
Connect the USB disk to your D7 and turn both devices ON.
Once ready, access the USB disk and navigate to the update (HTM) file.
Select the HTM file and press the ENTER button to open it.
Highlight the update link and press ENTER to start the upgrade process.
Follow the on-screen instructions and wait for it to finish and reboot. This might take several minutes, so make sure not to turn off the unit or disrupt the upgrade process in any other way.
The unit will reboot automatically and is then ready to use.
Remove the USB disk and erase the firmware. Done!