Latest firmware update for inXtron's P7-3500 digital media player with detailed instructions on how to update the firmware.
Supported products:
P7-U2EGA
Before you upgrade the firmware, turn on your P7-3500 media player, press the SETUP key and check the present firmware. If your current version is the same as the latest release seen above, your unit does not need to be updated. If yours has an older version, follow the steps described below.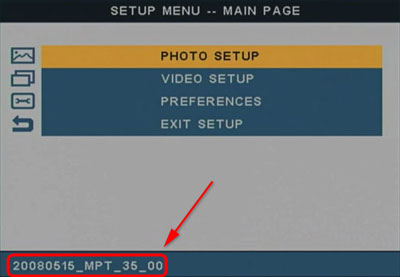 WARNING: NEVER TURN OFF YOUR UNIT DURING THE FIRMWARE UPDATE PROCEDURE. THIS MAY DAMAGE YOUR DEVICE. IF FOR ANY REASONS (E.G. POWER SUPPLY FAILURE DURING FIRMWARE UPDATE) THE PROCEDURE FAILS, YOU MAY NOT BE ABLE TO OPERATE YOUR DEVICE ANYMORE. IN THIS CASE PLEASE CONTACT YOUR VENDOR!
THIS FIRMWARE IS FOR INXTRON'S P7-3500 DIGITAL MEDIA PLAYER. DO NOT USE ANY OTHER FIRMWARE FOR THE P7-3500 AND DO NOT USE THIS FIRMWARE FOR ANY OTHER DEVICE!
Download the latest firmware for your P7-3500 media player, save it on your local disk and unzip it.
Store the BIN file (bank30.rom) on the hard drive of your P7-3500 media playing in the top directory.

Disconnect the USB cable from your computer and connect the device to your TV.
Use the remote control, make sure the source is the internal hard drive and then access it using the file browser.

Select YES to confirm and press the "Play/Enter" key to start the firmware upgrade procedure.

During the upgrade procedure, the screen will show the words Write/Erase. After the firmware upgrade is complete, the word Done shows quickly and then the screen goes black.

Only now turn off the power to restart the device and connect it via USB to your computer.
Erase the firmware (bank30.rom) on the hard drive and disconnect the device from your computer.
Connect the P7-3500 media player to your TV and turn it back on; your new firmware is now ready to use.